Computers can occasionally crash or get infected, which means that some files, be they work projects, photos, videos or songs, might get lost in the process. In such a case, it is a good idea to give dedicated apps a try, such as EASEUS Data Recovery Wizard Free Edition.
After data loss, please stop using the bad drive any more. And do not waste time and money on other software, immediately download EaseUS Data Recovery Wizard, save and then install it on a drive other than the one on which your files were lost.
EaseUS Data Recovery Wizard does an amazing job on format recovery, unformat, deleted files recovery or lost data due to partition loss or damage, software crash, virus infection, unexpected shutdown or any other unknown reasons when the data loss disaster strikes, especially when you want to recover data from formatted drive. It provides the most comprehensive data recovery solution for computer users to recover lost data.
EaseUS Data Recovery Wizard Main Features:
Deleted file recovery
Deleting files by skipping your Recycle Bin or pressing 'Shift + Del'.
Files loss due to emptying Recycle Bin.
Format recovery  
File recovery after accidental format, even if you have reinstalled Windows.
Disk displays as RAW or Windows asks you "Do you want to format this drive?".
Disk recovery after a hard disk or system crash.
Partition recovery 
Recover accidentally deleted partitions.
Restore partition loss due to repartition, boot manager, etc.
Other data loss cases  
Data loss due to turn off the storage media during the writing process.
"media card error": A Media Card has been inserted that contains errors.
Card Not Initialized or Card cannot be Read.
Memory card is locked, you cannot access it or open it.
"access denied", when SD card is corrupted.
Improper partition or partition error.
Virus attack or unexpected power failure.
EaseUS Data Recovery Wizard Screenshots: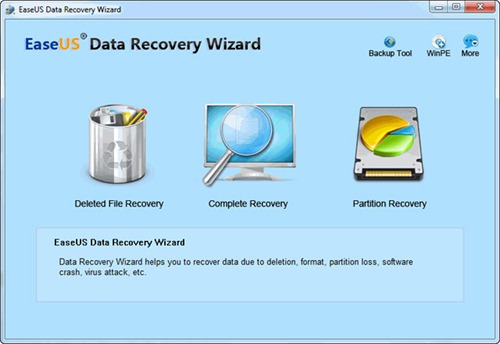 When to Use EaseUS Data Recovery Wizard?
Hard drives that have been formatted.
Corrupted or missing critical file system structures.
Accidental file deletion.
File loss without reason.
Unexpected system shutdown or application failure.
Computer viruses and worms infection or corruption.
Partition structures are damaged or deleted.
Damage due to a power failure or surge.
Recover files from devices with unknown file systems including Hard Disk, external ZIP/USB drive, removable SmartMedia, Memory Stick, SD cards, etc.
Any other data loss situations.
Recover lost files due to deletion, formatted, lost partition or damaged disks, virus infection, software crash, etc from Windows 2000, XP, 2003, Vista, 2008, Windows 7, 8, 2012.