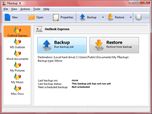 Freeware backup software FBackup includes special plugins for most popular applications—so you don't have to worry about which files to backup anymore, it's all handled for you. FBackup Makes Backing Up Application Data Simpler! – lifehacker.com
Software Name: FBackup 4.5.232
Version: Publisher: www.fbackup.com
Operating system: Windows 2000/XP/2003/Vista/Server 2008/7 (32 and 64-bit!)
FBackup Main Features:
Automatic backups
FBackup automatically runs the backup at the scheduled date, so you'll save precious time.
Backup with standard zip compression
When you are using "full backup", files will be archived using standard zip compression. ZIP64 compression can create zip files over 2GB in size.
Exact copies of files
If you don't want to have the files stored in one zip file, FBackup can help to make exact copies of the backup files using "mirror backup".
Run actions before/after backup.
You can define an action to execute before or after the backup.
Backup plugins
You can load plugins for backing up or restoring specific program settings or other custom data (like game saves, email data, etc.).
Multiple backup destinations
You can backup your data to an external USB/Firewire drive, or on a mapped network drive
Backup open files.
If a file is in use by another program at the time of the backup, FBackup will still be able to back up that file.
FBackup Reviews:
This is exactly what I have been looking for – simple as MS Synctoy, yet powerful enough to enable simple mirroring. There is one drawback though – does not preview the backup actions. Unfortunately, without preview any backup might by too risky to use. Apart from that – excellent."
It's flexible. It can bkup my all my own files by detecting changes, so repeat backups take only a couple of minutes.
FBackup Free Download:
FBackup is a free backup software for both personal and commercial use and works on Windows 7, Vista, XP, 2000 and 2008/2003/2000 Server (32 and 64-bit).
Download it now and start backing up your important data!
Download: FBackup 4.5.232
Note: FBackup is a free file backup software, it is not recommended for full system backup (disk image backups).