Anyone know of any program that will completely wipe a hard drive and make files unrecoverable? I have 3 comp from work I have to do this to, and need some info on a good program to do it with. Thanks
Active@ KillDisk: Powerful and compact software that allows you to destroy all data on hard disks, USB drives and floppy disks completely, excluding any possibility of future recovery of deleted files and folders. It's a hard drive and partition eraser utility.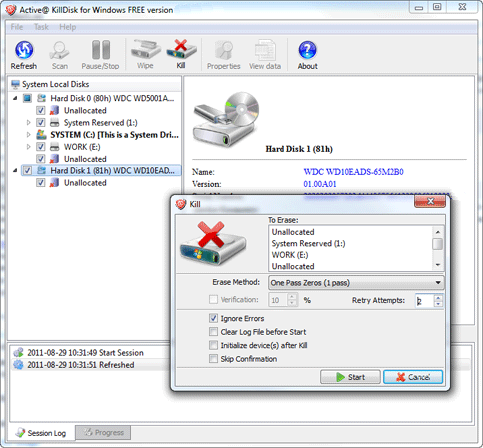 Hard Drive Wipe Tool: Active KillDisk
Active@ KillDisk Key Features:
Support for wiping Apple HFS+ & Linux Ext2/Ext3/Ext4;
New! Erasing/Wiping Certificate can be saved as PDF;
Supports 17 security standards;
Detects and displays information about all partitions, hard disks and floppy drives currently connected to your computer;
Wipes out all floppies and hard disk drives completely by secure overwriting data on physical level using [One Pass Zeros] data destruction method;
Erases partitions, logical drives and even not used disk space;
Erasing report is created and can be saved as a file;
File systems (FAT, FAT32, NTFS, etc) on the drive do not matter, detected physical drive is erased using low-level disk access
How to Use KillDisk Hard Drive Eraser:
1: Create a bootable floppy disk or a CD (or both) that has system troubleshooting programs, as well as the boot disk version of KillDisk before doing any permanent deletion. Images for floppies and CDs are available on KillDisk's website.
2: Insert your bootable disk and restart your computer. When the DOS prompt appears type "killdisk."
3: Select the drive you wish to erase or wipe. Information for the selected drive is available on the right side of the screen. More information is available by pushing "Ctrl + S," which shows the disk sectors or "Enter," which shows the file system.
4: Press "F10" to permanently and irrevocably erase all information on the selected drive.
5: Push "F9" to clean all information outside of the current file system. This means that the files on the computer remain unchanged but older, often deleted, files are gone forever.
6: Confirm your choice. Both methods require you to press their button again (either F10 or F9), then enter a supplied command word before it begins.
7: Wait while the program executes the erase or wipe. Once it begins, you can stop the process by pressing "Esc," but any erased data is gone.
Active@ KillDisk Customer Review:
This does exactly what I need it to do – COMPLETELY ERASE MY HARD DRIVE. This is great for fresh installs or re-deployments of machines. Also works great if you wish to sell/recycle your hard drive to remove all traces of information. Yes, the paid version allows for more intrusive/destructive measures.