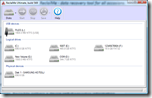 ReclaiMe is a powerful data recovery program for the various media types.
Price: Free to try (Recovery-disabled); $79.75 to buy
Operating system: Windows 2000/XP/2003/2008/Vista;
Version: Windows
About ReclaiMe Data Recovery:
ReclaiMe is a brand new product on the data recovery software market. It can recover deleted files, formatted disks and cards, data lost to a virus attack, system crash and whatnot. ReclaiMe has a number of significant advantages that distinguish it from the other data recovery utilities:
You can preview the recovered data even before the recovery is finished.
The preview feature allows you to evaluate the quality of the recovery before purchase.
ReclaiMe handles heavily damaged data well.
High speed data reading and processing from various media.
Possibility of creating a disk image file for the recovery.
ReclaiMe works with most media types (memory cards from the cameras, mobile phones, PDAs, MP3 players, hard drives and so on), as well as with disk image files.
The recovery process doesn't require any complicated and tedious configuration of the program parameters.
You need ReclaiMe Data Recovery when:
you have accidentally deleted something (say, a digital photo from your memory card);
you have accidentally formatted your memory card;
you have lost your data because of accidental mishandling of your memory card – ejected the card from the working device or the battery exhausted and the camera turned off during the operation;
you have formatted your disk but now you want to reclaim your data back;
you think that there is a physical damage to your media. In this case ReclaiMe can create a disk image in the file, and then recover your data using this disk image file.
Useful Links:
Web site: http://www.reclaime.com/
Free Download ReclaiMe Data Recovery now!
Buy ReclaiMe Data Recovery online.
Publisher profile:
In Volgograd city (Russia). ReclaiMe project has grown out from the software division of the famous data recovery company. The software there was good but excessively complex. So they set off on a separate project thinking that after all these years they finally need to create something people can actually use.