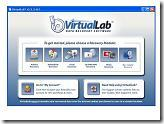 Recover data from lost or missing partitions, viruses, and accidental deletion; formatted drives from nearly any type of media.
Price: Free to try (Previews recovered data); $39.95 to buy
Operating system: Windows 98/NT/ME/2000/XP/Vista;
Version: 5.5.17
Publisher's description:
VirtualLab Data Recovery Software is like six data recovery programs in one! While other programs just recover deleted files or camera cards, VirtualLab recovers everything from deleted files, corrupted or formatted drives, CD & DVD-ROM Disks, RAID, flash drives, thumb drives, camera cards, USB/Firewire drives, Outlook & Thunderbird E-mail and even Mac Volumes. VirtualLab will even make a sector-by-sector disk image of a failing hard drive so a recovery can be performed safely. Supports many file systems in one application including FAT 12/16/32, NTFS, NTFS5 (VISTA), NSF, Mac HFS/HFS+, Ext2FS.
User Reviews:
You guys rock. Thank you!
My mom's harddrive crashed and I was able to recover all of her word docs and pictures.
From recovering RAID to Mac volumes, camera cards and even CDs (never tried that one)… this software really works well and has proven to be one of the best. As a computer repair company, tools like this are totally valuable for my business.
I tried a few other products before this one. None of them were as easy to use and they didn't find my data like this one did. The last time I had a hard drive failure, I called a few data recovery services and was quoted a few thousand dollars. My IT tech guys came to the rescue that time. With this product, I handled the whole thing myself and got all my data back within the same day! (250 gb drive!) Excellent product and I can't thank you enough!
Worked great, no problems, did what I needed it to do, quickly and without any problems.
Out of several data recovery programs i have tried, this one was the best and i bought the full version. Now I can maintain my drives and they run quick and error free
Useful Links:
Web site: http://www.binarybiz.com
Free download VirtualLab Data Recovery now!
Buy Virtuallab data recovery online.
Publisher profile:
BinaryBiz is a small, closely held company made up of software programmers and product designers that are commited to producing the data loss, recovery, hard drive repair, and data management programs. The company has been developing Web-based software solutions for over 15 years.