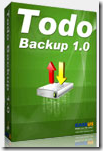 File Name: EASEUS Todo Backup 1.0
Version: 1.0
Publisher: Chengdu Yiwo Tech Development
OS: Windows 2000/XP/2003/Vista/Server 2008
Back up and restore data on your system, partition, or hard disk. EASEUS Todo Backup is a freeware. You can use this freeware to backup the system or important data to a safe place. With it you can create mirror image, clone disk, upgrade small disk to bigger one. You can also backup your data into hard drive or CD/DVD.
Main Features:
Backup system partition to image:
Backup the entire system partition, including the system state and all files to an image file. Easy to store and restore.
Backup partition or disk:
Backup the whole disk including the operating system and all data to an image file. Easy to restore or migrate to other disks.
Restore hard drive and operating system in Windows:
all the previous backed up disk and system image can be restored within minutes.
Restore the system partition by bootable CD.
Create a bootable CD and restore when there is a boot failure.
WinPE bootable CD: If you fail to restore with Linux based bootable CD, we recommend you to use WinPE CD which is more powerful.
Compress image file: The image file will be smaller if the compress level is higher, so it will save more space and it is more convenient to store and transfer.
Image file splitting: There are different upper limits for different storage, so it is necessary to split the image and fit different storage devices.
Backup priority: It will be faster to complete the operations if the priority is higher.
EASEUS Todo Backup is a backup and restore solution for a good reason: with detailed instruction wizards, your computer will be in a safe condition within minutes without the help of an IT specialist to backup your system state, partition and disk. EASEUS Todo Backup can backup your system partition to quickly get the system up and running in the event of a system crash or hardware failure. It allows you to backup and restore disk or partition after viruses attack, unstable software download, hard drive failure. Meanwhile, EASEUS Todo Backup is useful if you want to upgrade the older smaller hard disk without reinstalling the operating system and applications once again.
Free Download EASEUS Todo Backup 1.0