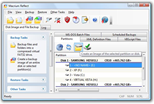 Macrium Reflect – Create, burn, and back up disk images.
Software Name: Macrium Reflect Free 4.2 build 2952
Version: Publisher: www.macrium.com
Operating system: Windows XP/2003/Vista/7/2008
Macrium Reflect lets you backup your computer files or create complete images(Using this image you can easily restore data to an existing hard drive or put all your data on a new hard drive.) of your hard drive. Macrium is the best hard disk imaging and recovery solution for Windows XP/Vista/7, Server 2003 and Server 2008. Macrium Reflect supports backup to local, network and USB drives as well as burning to all DVD formats.
Macrium Reflect Free Edition Main Features:
Simple step by step operation
Image and Restore using intuitive wizards and interfaces. Macrium Reflect integrates fully with Windows Explorer, a partition image can be created with a simple right click.
Automate the process
With Macrium Reflect you can schedule Images to run at any time.
Integrated VBScript generator
For ultimate backup control Macrium Reflect integrates with VBScript and WScript, enabling complete control of the backup process.
XML Backup definitions
Save your backup definitions as industry standard XML files
Restore individual files and folders
Create a 'Virtual' drive in Windows Explorer and recover selected files and directories using simple copy and paste operations.
Optimize
You can create full, differential or incremental images to optimize backup speed and disk space requirements.
Windowless recovery
If Windows no-longer boots, simply start your computer with the Macrium Rescue CD. This CD starts a compact version of the Linux operating system with a familiar mouse and graphical interface. You can then recover partitions and entire diskimages with just a few clicks of your mouse.
Macrium Reflect Free Edition Customer Reviews:
I just wanted to let you know how great your product is. I got a new SATA hard drive for my laptop and I tried to use ghost but it failed. I used your product with the Bart PE plugin and it was terrific. Very easy interface and worked perfectly. Thanks so much.
its fast easy to understand and works every time the interface is nice alot nicer than most back-up software of this type and it lets you see it working instead of guessing.
Macrium Reflect Free Edition Download:
Free Download: Macrium Reflect Free Edition
Note: Macrium Reflect Free Edition is for non-commercial home use.