There are a lot of data recovery softwares on the market, but today I would like to wirte something about this new published free data recovery utility – iCare Data Recovery Free.
As a powerful and complete data recovery freeware, iCare Data Recovery Free is full compatiable with Windows XP/Vista/7. iCare Data Recovery Free can perform basic and advanced data resuce to help you restore data deleted, formatted or lost due to errors such as drive/system crash, virus attack etc. It can recover documents, emails, videos and audio files from storage medias including PC hard drive, cell phone, digital camera, removable media etc.
How to use iCare Data Recovery Free
Step 1 – Launch the program and you would see there are recovery options provided for you to start different data resuce. Select one to search. You can try any one or all of them to restore files format recovery
Step 2 – Select media to start searching lost files on the media
Step 3 – Wait while it scans lost files
Step 4 – Save found lost files.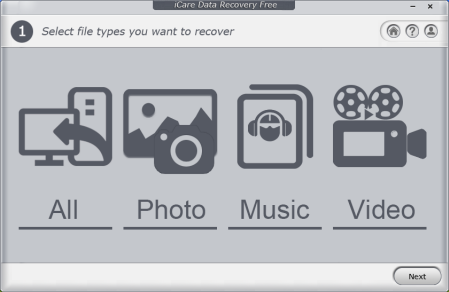 Supported Multimedia File Formats:
audio files: mp3, wav, AIF/AIFF, MID/MIDI, OGG, AAC, etc.
video files: avi, mp4, 3gp, avi, swf, mov etc.
Data loss won't be your headache! As a comprehensive data recovery solution, iCare Data Recovery can easily recover files from wrong formatted drives, unexpectedly file deletion, raw drive or raw file system, virus attack, partition deleted, software crash etc. It can recover any deleted files like photos, documents, mp3, outlook file, presentations, and it also works with any type of storage media like hard drive, removable hard drive, digital cameral sd card, usb drives, ipod, memory card etc.
Publisher's website: http://www.icare-recovery.com/