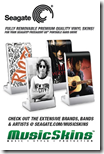 Seagate, the world's leading provider of hard drives and storage solutions, and MusicSkins LLC, the leader in music and music-related, high-quality, vinyl skin products, today announced a marketing partnership to add personal flair to the FreeAgent Go™ and FreeAgent Go™ for Mac external hard drives. With a wide range of skins from a vast catalog of licensed creative or customized designs, this partnership expands on the already extensive range of FreeAgent® drive color, size and capacity options that let people to put their personal stamp on their Seagate external storage devices.
MusicSkins' utilizes a patented 3M® adhesive technology that prevents air bubbles and allows for both easy application and clean removal. These hassle-free, premium vinyl skins offer a distinctive look, and personal style to Seagate external drives, while also safeguarding the device with a durable anti-scratch, anti-UV coating to protect the exterior of the hard drive. From Bob Marley to John Lennon, Madonna to Lil Wayne, EXPLODINGDOG to Adult Swim, and even personal photos and images, there's a MusicSkin to suit every personality.
"Our FreeAgent Go™ portable hard drives allow people to store their personal digital treasures in a slim, fashionable, easy-to-carry package. It makes sense that they would want to add their personal stamp to the drives, Your photos, music and movies are a reflection of who you are and through our partnership with MusicSkins, you can now have their drives reflect your personality, too." said Terry Cunningham, senior vice president, Seagate Branded Solutions.
Tricking out your FreeAgent external portable drive is easy. Consumers can either purchase a skin directly from Seagate.com when purchasing a FreeAgent Go drive, or outfit a previously purchased drive by visiting www.seagate.com/musicskins and selecting a skin from the library of designs, or creating a uniquely designed personal piece with the online customization tool. The skins traditionally range in price from $15.00 to $30.00, depending on the selection and type of device, and arrive via mail in seven to ten business days(1). However, for a limited time(2), those who purchase a FreeAgent Go or FreeAgent Go for Mac drive at any Seagate retailer, can take advantage of a special email offer to receive 20 percent off any MusicSkin and 35 free songs from eMusic when they register their FreeAgent Go on Seagate.com. With even more options for tricking out a Seagate hard drive with fresh looks and favorite tunes, the FreeAgent Go drive makes the perfect addition to any back-to-school, gift or personal shopping list.
"As the leading manufacturer of premium quality vinyl skin products for an array of leading personal digital devices, we're proud to be working with Seagate to tailor their award-winning FreeAgent Go™ drives to fit the personal style of their customers, People today are inseparable from the tools that give them access to content. They want it with them wherever they go, whether it's on their phone, iPod, laptop or an external hard drive. They also like to put a personal mark on the device to make it their own."  said Vince Bartozzi, president, MusicSkins LLC.