MacKeeper, an easy way to manage routine tasks and keep your Mac secured, clean and running fast!
MacKeeper Main Features:
1. Internet Security
Protect your Mac from all kinds of Internet fraud.
With the Real-Time Safe Browsing feature you can surf the Internet without worries as all malicious websites will be blocked automatically.
For extra security and your convenience you can manually create lists of potentially dangerous websites to be auto-blocked and likewise 100% trusted websites that won't be checked.
Compatible with all browsers for Mac: Safari Firefox Chrome
Antivirus
Mackeeper offers a leading Mac OS engine antivirus in case you need extra security, for example, when you work with Windows emulators such as Parallels or VMWare. With
an easy real-time protection on/off switch you can turn it on, work with an emulator and turn it off when you're done.
How It Works?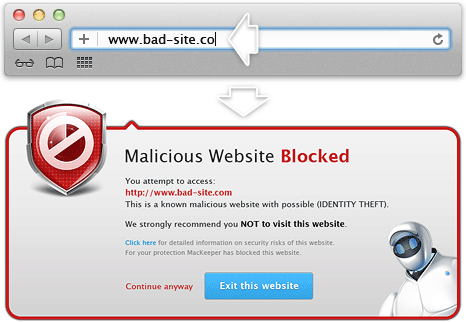 2. Anti-Theft
Find your Mac if it gets stolen.
In case your Mac gets stolen, Anti-Theft will track its location and even make an iSight snapshot of the thief.
How It Works?
Lost your Mac? Just follow these simple instructions:
1. Log in to your ZeoBIT account.
2. Navigate to the Anti-Theft tab.
3. Click "Report stolen computer" to let us know that your Mac has been stolen.
When your Mac goes online, MacKeeper will immediately generate a detailed report on its location and make an iSight snapshot of the thief.
To make sure you don't miss the moment, we will immediately call you and email you this report along with the snapshot. You can also get this information in your account, updated every 5 minutes. Report this info to the police, and they will help you get your Mac back.