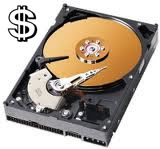 It is important for customers to have a feel of data recovery pricing before they send their disks to recovery companies. Pricing comes down to Drive Size, Media Type (Hard Drive, RAID, SSD), and Issue with the Drive:
Types of disk (interface, model and size)
Failure modes
Types of operating system
User attempts before sending
Any special user 's requirements
1. Types of hard drive (interface, model and size)
Interface
The hard drive could be IDE, SATA or SCSI, ranging from a few gigabytes (GB) to a few terabytes (TB) from different manufacturers. It is a well known fact that SCSI disk is harder to recover than IDE disk.
Size
It is also more difficult to recover data from a larger disk capacity as the magnetic density, the number of read write heads and the level of technological complexity increase with disk capacity.
Model
It is also not surprise that certain disk models are extremely difficult to service due to the manufacturing technology, material and methodology.
2. Failure Modes
Hard disk may fail logically or physically. In general, it is harder to service a physically damaged disk and hence the cost of recovery will be higher.
3. Types of OS
The operating system are many and varied. Recovering data from a UNIX file system will be more difficult and costly than from a Windows operating System. Some recovery may even involve "legacy" system and may need to be treated as a special project.
4.  User's Attempts
Unsound attempts by the users to rescue the data very often cause the data media to suffer more damages. Very often, in order to recover data from damaged media, earlier user's action has to be reversed and this may add additional costs as a result.
5. Special User's Requirement
Some recovery jobs may have special requirements. For instance, the disk could be from a special machine and therefore one may need to recover the booting operating system besides the data. In other instance, besides the normal disk failure, the customer may have special encrypted file system so recovering data from it could be a challenge.
In general, the data recovery pricing does not depend on the amount of data recovered. It depends on job complexity as outline above.
Data Recovery Price UK
The following is a sample of prices for data recovery of hard drives in UK.

IDE Hard Drive:
Size of Drive: 2-250 GB —- Price Ranges from £199 to £1000
Size of Drive: 250 – 500 GB —- Price Ranges from £199 to £1500

SATA Hard Drives
All Drives – Price Ranges from £199 to £1500.

SCSI Hard Drive
All Drives – Price Ranges from £300 to £2000.

RAID Recovery Price
RAID RECOVERY price for all RAID types including SAN, NAS and SNAP Servers starts from 500.

Fixed Price for Medias:
All removable media recovery prices are fixed depending upon the size of the media and type of media.

Floppy Disk: £99
CD ROM: £99
CD R/W: £99
DVD ROM: £150
DVD R/W: £150
Memory Stick: £99
Flash Card: £99
Iomega Zip: £199
Jaz disk: £199
Panasonic Optical 1.5Gb: £299
Pinnacle Optical 4.6Gb: £299
Imation Super Disks 120Mb ATA: £199
Flashcards such as Smart Media and Compact Flash etc: £99
Data Recovery Price USA
The following is a sample of prices for data recovery of hard drives in USA.

Logical Hard Drive Recovery: $85/hour
Logical Hard Drive Emergency Recovery: $149/hour

Physical Hard Drive Recovery: $149/hour
Physical Hard Drive Emergency Recovery: $250/hour

RAID Recovery: $250/hour
SSD Recovery: $250 an hour
VMware & Virtual Recovery: $149/hour
Flash Drive Recovery: $500 plus parts
About "No Data, No Charge"
Many data recovery companies maintained a no data, no charge policy. If the recovery process fails to produce usable data for clients, the storage media is returned free of cost.