Undelete Plus
Undelete plus is a quick and effective way to restore accidentally deleted files. It can also recover files that have been emptied from the Recycle Bin, permanently deleted files within Windows using the Shift + Delete, and files that have been deleted from within a Command Prompt.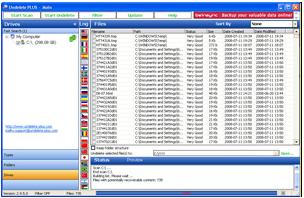 Easeus Deleted File Recovery (removable drive and full Vista support)
Easeus is an easy to use data recovery program with full support for FAT 12/16/32 and NTFS file systems for all versions of Windows up to Vista. It can retrieve deleted files from any mounted drive visible to the operating system and, importantly, it works well from an second or removable drive (you should never install anything onto the drive you are trying to recover from).
One especially nice touch with Easeus is the recovery preview which lets you visually scan through all deleted files and select which you would like to recover. The smooth GUI makes this process painless. Because it works with any mountable drive, you can recover lost cell phone pictures, iPod files or digital camera shots.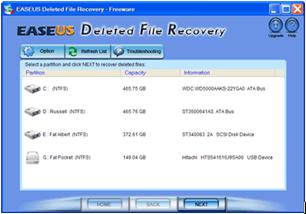 NTFS-reader (Lightweight free undelete-type data recovery!)
NTFS Boot Disk provides access to your NTFS drives in an MS-DOS environment (long filenames are supported). NTFS Reader for DOS will allow you to browse and recover all kinds of deleted files.
Although it looks rudimentary, the DOSishness is actually a real boon since Windows isn't running and mucking up your data with disk
swapping. NTFS provides good data browsing and preview functionality and runs straight from a boot disk (which you should make on another computer).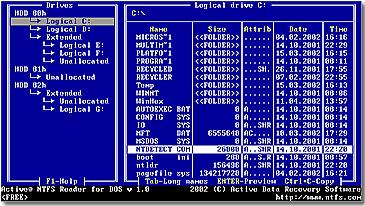 Restoration (Small, fast and Easy. No install but runs from Windows)
Restoration is an easy to use and straight forward tool to undelete files that were removed from the recycle bin or directly deleted from within Windows. Upon start, you can scan for all files that may be recovered and also limit the results by entering a search term or extension.
In addition, Restoration also provides an option to wipe the found files beyond simple recovery. And as such it is not only a data-recovery tool but also a security cleanup application. You can use it to totally delete your files so that no recovery is possible.
The program is very small and completely stand-alone, it does not require installation and can also run from a Floppy disk. Restoration works with FAT and NTFS as well as digital cameras cards.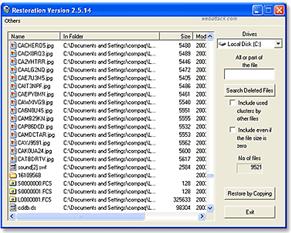 Drive Rescue
Drive Rescue can find any lost and deleted data on your drive (e.g. hard disk) even if the partition table is lost or the hard disk has been quick-formatted. Drive Rescue is claimed by the author to be Freeware and free to use.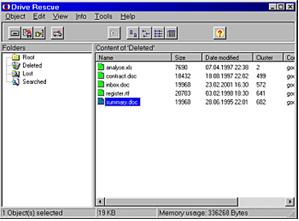 NTFS Undelete
When you delete a file, its content physically remains intact on the media, but the occupied space becomes marked as free. NTFS Undelete is free software that allows you to recover deleted files. It recovers files directly from hard drive, and it will work even if you empty Recycle Bin.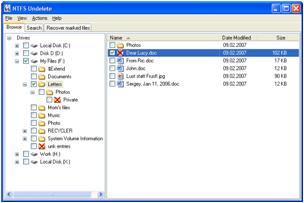 TeraCopy
TeraCopy is a free utility designed to copy/move files faster and more secure. Can resume broken file transfers. TeraCopy skips bad files during copy and even shows the skipped files at the end of files transfer. Calculates files CRC checksum on the fly to speed up source and target files comparsion. Seamless integration with Windows Explorer allows you to keep working with files as usual.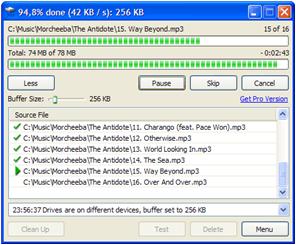 R-Linux Free Recovery
R-Linux is a free data recovery and undelete utility for Ext2FS/3FS (Linux) file system. File recovery after power failure, system crash, virus infection or partition was reformatted, even for the different file system. The utility creates image files an entire disk, partition or its part. Such drive image can be processed like regular disks. Recovered files can be saved on any (including network) disks accessible by the host OS.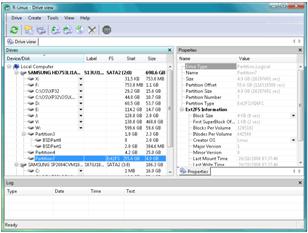 Recuva – File Recovery
Recuva is a file undeletion tool that enables you to scan your hard drive(s) or media cards for files that have been deleted. It presents you with a list of files that were found, along with an assessment of their recovery potential, a preview option and a hex viewer to inspect the content. You can limit your search to files of a certain type (e.g images, audio etc.) and choose between a fast and a deep scan approach.
The program also includes a secure deletion option that allows you to permanently delete files that were found during the scan, in order to prevent any future recoveries.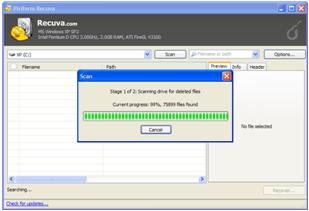 FreeUndelete (File undelete software. Free for personal use)
FreeUndelete restores deleted files, including those removed from Windows Recycle Bin. In case of accidental removal of files on a NTFS (default for Windows Vista, XP, 2000 and NT), FAT32 or FAT16 file systems this is the utility to help.
Supported file systems:NTFS, FAT32 and FAT16
The recovered files are saved into a new location to prevent overwriting the deleted files on the original media.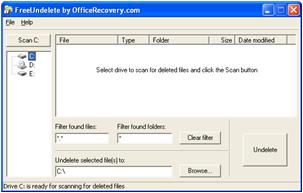 TOKIWA DataRecovery
TOKIWA DataRecovery is a simple data recovery tool that enables you to undelete files, even if they have been removed from the recycle bin.It supports FAT12, FAT16, FAT32 and NTFS file systems. The interface is plain and simple, choose the drive to be scanned and then select the file(s) to be recovered, you can recover multiple files by using the Shift or Ctrl key. TOKIWA DataRecovery does not require an installation,and can be run from a USB drive or floppy disk.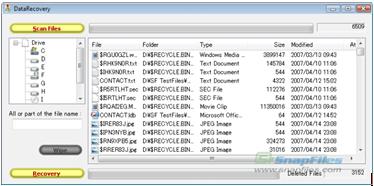 CD Recovery Toolbox Free
CD Recovery Toolbox Free is a data recovery tool, designed to recover files from scratched or otherwise damaged or corrupt CD, DVD,HD DVD and Blu-Ray disks. Just select the drive that contains the media you want to recover from, check the files you want to restore and start the recovery process. Depending on the level of damage, the recovery process may take a long time, and may not recover all the files. It did recover a good portion of images for us from a badly scratched CD that Windows was not able to read properly.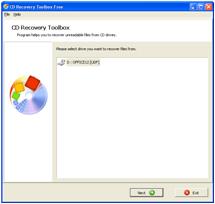 Pandora Recovery
Pandora Recovery enables you to recover accidentally deleted files from NTFS formatted drives, even if they have been emptied from the recycle bin. The program offers a quick scan for recently deleted files and a time consuming surface scan that attempts to find all deleted JPG, BMP, GIF and PNG files. Pandora Recovery does not work with media cards or any other drives that are not NTFS formatted.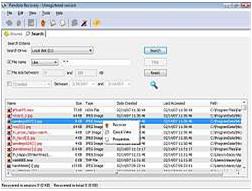 SoftPerfect File Recovery
SoftPerfect File Recovery is a tool to recover accidentally deleted files from hard disks, USB flash drives, CF and SD cards and other storage media. We tested the program with images deleted from a USB stick and they were recovered without problems – however the program will not be able to recover any files if the media has been formatted (or files have been overwritten). SoftPerfect File Recovery supports popular file systems such as FAT12, FAT16, FAT32, NTFS and NTFS5 with compression and encryption.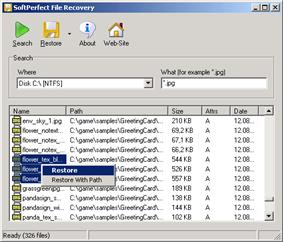 ICE ECC
ICE ECC is a file verification and repair tool that enables you to protect your important files against digital corruption using Reed-Solomon codes. The program is not intended as a main backup solution, but rather as a backup for your backup – it can be included on CDs or DVDs before you store your data, allowing you to recover data that has become corrupt due to age of the media or scratches. You can protect selected files or entire folders by simply selecting them and having the program generate an ECC file. If you ever need to verify whether the data has been modified or corrupted, just select the appropriate .ECC file and load it into ICE ECC, which will then analyze the files and can recover any corrupted data.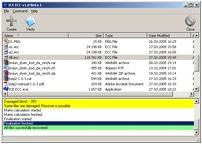 geProduct Key Finder
geProduct Key Finder enables you to recover your product CD-keys and serial numbers for most Microsoft products as well as several 3rd party products. If you need to reinstall or upgrade your PC and no longer have your original registration keys, this program can help you retrieve them.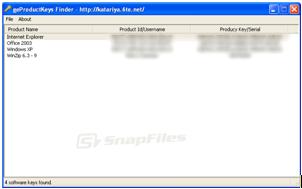 MjM Free Photo Recovery Software
MjM Free Photo Recovery Software will recover images that have been deleted from a memory card, or from memory cards that have been formatted. The easy-to-use interface will automatically detect the media card in the card reader and scan it, while displaying thumbnail images of the photos that are found during the scan. You can view each photos in full-size and recover them all or only save selected images. During our review, we first deleted all images from the card the via Windows – the program found and recovered all of them. We then formatted the card in the camera and restarted the search – and again it found them all (recovery results after formatting may vary depending on the formatting method used by the camera). Works with Compact Flash, SmartMedia, Memory Sticks and other media storage cards.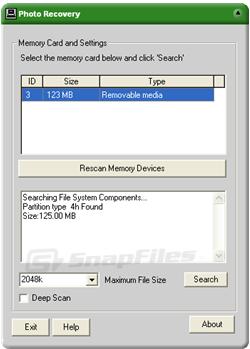 PC-Inspector File Recoery (Fast Free but requires installation)
PC Inspector File Recovery is a data recovery program with support for FAT 12/16/32 and NTFS file systems. It recovers files with the original time and date stamp, and can optionally restore them to a network drive and can recover many files, even when a header entry is no longer available. On FAT systems, the programs finds partitions automatically, even if the boot sector or FAT has been erased or damaged. PC Inspector File Recovery offers an easy to use interface that will scan your drive and automatically make files that can be recovered available from a "Deleted" folder in an Explorer Style navigation tree.
To be able to use PC Inspector File Recovery you need a working Windows System. Never install the current version on the drive from which you intend to recover data! The program must be installed and run on a second, independent drive.

PC Inspector Smart Recovery
PC Inspector Smart Recovery is a data recovery program for Flash Card, Smart Media, SONY Memory Stick, IBM Micro Drive, Multimedia Card, Secure Digital Card(SD) or any other data device for digital cameras. It enables you to recover accidentally deleted or formatted pictures, videos or sound files from the selected media. The program also offers a mode that enables you to check the media for errors.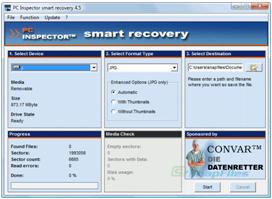 Zero Assumption Digital Image Recovery
Zero Assumption Digital Image Recovery is an easy to use data recovery tool for the recovery of accidentally delete image files on removable media disks (Compact Flash, SmartMedia, Memory Sticks etc.). The interface is very easy to use, just select the device that contains the images that need to be recovered and specify the folder to save the images to. Zero Assumption Digital Image Recovery works with images that have been deleted or formatted by the camera. Supported formats are TIFF, Exif, JPEG and GIF. We tested it successfully with a freshly camera formatted 1GB Flash card and were able to recover all images.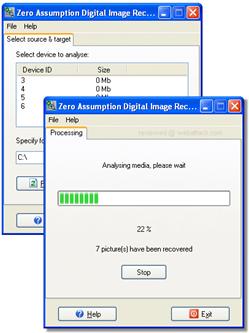 Disk Investigator
Disk Investigator helps you to discover all that is hidden on your computer hard disk. The program can display the true drive contents by bypassing the operating system and directly reading the raw drive sectors. You can view and search raw directories, files, clusters, and system sectors and also verify the effectiveness of file and disk wiping programs. The directory mode allows you to browse the file system in a file structure, the raw mode displays a sector-by-sector view (for advanced users).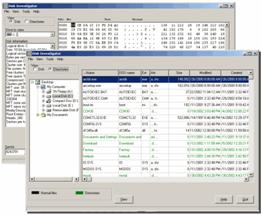 ADRC Data Recovery Software Tools
Free data-recovery rogram for Windows, which can: undelete files, recover files from damaged disks, copy a raw disk image to another disk, create and write disk image files to/from internal and removable drives, import/export the boot sector of a drive, etc.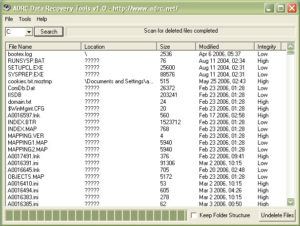 Easy Recovery
Non free. Very useful tool to recover damaged, lost or deleted files. Free time-limited evaluation version available.
NT File Recovery
A free Windows utility to restore accidentally deleted files from NTFS file system.
S2 Services Data Recovery Freeware List
Large directory containing freeware, commercial software, tips and information on how to recover lost data.
TestDisk
Free utility for recovering lost or damaged partions on a harddrive. Supports: NTFS, FAT, FAT32, BeFS, BSD, CramFS, HFS, JFS, Ext2, Ext3, ReiserFS, Linux Swap, etc. TestDisk can run on DOS, Windows, Linux, BSD, SunOS and MacOS.