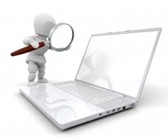 A computer forensic professional collects electronic evidence and provides information to an investigation team. Being a computer forensic professional requires you to have skills to help criminal investigators solve computer crimes. You should have knowledge of criminology, business law and computer data analysis.
If you like crime scene investigation shows or the thought of cracking encrypted computer security codes excites you, then a career in computer forensics might be right up your alley. The requirements to become a computer forensics professional can vary. An associate or bachelor's degree are two of the more common paths to a career in this field, but graduate degree programs are becoming more common. Forensic computer analysts made an average salary between $47,117 and $79,667 in 2010, according to PayScale.
Obtain an associate or a bachelor's degree. Having a degree in computer science or accounting will be more beneficial in finding a computer forensics job than having a criminology or criminal justice degree, says the U.S. Bureau of Labor Statistics. Associate and bachelor's degree programs in the field of computer forensics are offered at schools such as ITT Technical Institute and Westwood College.
Apply for positions with law enforcement agencies. Most law enforcement agencies will require you to pass an extensive background check and a series of written and psychological tests before they will hire you.
Attend courses at a police academy. Although you can work in computer forensics as a civilian analyst, having insight into the criminal investigation process and police detective techniques can provide you with invaluable insight on how the criminal mind works and possibly provide you with a better understanding of how to access information that may be hidden on computer systems.
Gain experience through hands-on training. Most computer forensics professionals learn about the specifics of their trade through the computer forensics training program offered by the law enforcement agency they work for, according to the U.S. Bureau of Labor Statistics. In fact, the bureau also notes that many utilize this training as a way to break into the field before moving on to the private sector.
Obtain certification as a computer forensics investigator. Agencies and organizations such as the International Society of Forensic Computer Examiners offers certifications in the field that will give you the credentials that will set you apart from your competition for jobs or clients. Certification from the Society requires you to complete additional computer forensics training, have a minimum of 18 months of verified experience in the field and engage in self-study in digital forensics. Once your qualifications have been verified, you can then take the certification exam.
Be sure that the school that you enroll in is accredited. Be sure that you earn maintain an acceptable grade point average at the school you are enrolled in. Some two-year programs require that you complete 60 credit hours and earn nothing less than a 2.0 GPA. Ask the college you are applying to if you need to submit to a criminal background check. You may be excluded from admission to a post-secondary school if you have a previous felony conviction.