For the following Maxtor hard drive models: Fireball 3, DiamondMax 16, DiamondMax Plus 8, DiamondMax Plus 9, Diamond Max 10 and all MaxLine products there is also a GTLA Number on the model (next to barcode on the bottom of the drive). Format 1Y222J2223322. 1, 2 and 3 stand for numbers, Y and J for letters.

The numbers 1 and 3 as well as the letter Y need to be identical to be able to replace the PCB on these drives.

This number can be found on the large sticker on the top of the drive.

Unfortunately we can not give you any more information than this. Any of your DiamondMax Plus 9 drives could possibly have a matching PCB, however it is most likely to be an older one as the drive in question is almost 3 years old.
This mean that the board and its firmware are disk size indipendent and so if you have a 120 / 160 and so on defective board, you can replace it with a 60 / 80 or what you want board.
1. Maxtor PCB Replacement Guide:
For Maxtor PCB, just need the donor PCB has the same Main Controller IC as yours.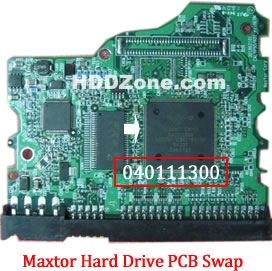 * Maxtor Hard Drive PCB Swap
2. Before Maxtor PCB Replacement you should know:
1. Most PCB's BIOS chip(ROM Chip) store the unique information. We need change the BIOS form original PCB to replacement PCB, in order to make the replacement PCB compatible with the HDD.  The 8pins (4 pins on each sides) with 25P05VP、25P10VP、25F512、25F1024、25F1024AN、SST25VF512、SST25VF010, etc. are the BIOS Chip.
Tips: Most of the TV/Phone Repair Shop can offer these services for just $5-%20
3. Maxtor replacement PCB online supplier:
Note: These are just the PCB circuit boards, not he whole hard drives.