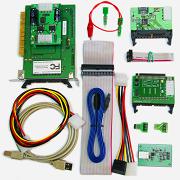 1. What is "PC 3000 System"?
PC-3000 Drive Restoration System is a Phase I tool, dealing with drive restoration and its two critical steps: harddisk diagnostic and harddrive repair.
2. Why you need "PC 3000 System"?
As a data recovery professional, chances are you have ways to deal with mechanical drive failures. You may even have some success with electronic problems using jury-rigged tools and trial and error. But can you handle the firmware problems that cause 50 percent of all drive failures-up to 90 percent for some models?
3. What is the highlights of  "PC 3000 System"?
* Designed specifically for the needs of data recovery businesses, PC-3000 does not require clean rooms, servo writers, or other expensive equipment.
* Universal utilities give you faster drive diagnostics, and let you decide on possible methods for recovery. Specialized utilities allow deeper diagnostics and firmware recovery in a drive's vendor-specific mode.
* Unlike software repair utilities distributed by software development companies and drive manufacturers, PC-3000 repairs the drive and treats user data with respect. And unlike manufacturer's test and repair software, PC-3000 comes with manuals and provides methods for drive restoration in a user data intact environment.
* Software that comes with PC-3000 features a user-friendly Microsoft Windows XP/2000 interface.
* PC-3000 comes with a range of adapters for the most common drive types, and firmware libraries are continually updated for new drives and patches, and you can download them as needed from DeepSpar.
* PC-3000 has built-in features to treat particular drives for their most common failures: for example, firmware damage in G-list and P-list corruption in Maxtor; SMART counters overflow in Western Digital, Fujitsu MPG issues and more.
* The PC-3000 kit includes a PC-3000 PCI card, PC-3000 software, a range of adapters, and gives you access to downloads, user forum, and technical support.
4. Useful Links
NEW: PC-3000 UDMA is now available. This latest version supports working in UDMA modes for vastly increased speed. (PC-3000 UDMA also combines the capabilities of both PC-3000 PCI and PC-3000 ISA.)