1. HD Doctor Suite (SalvationDATA Technology, LLC. China)
SalvationDATA HD Doctor Drive Restoration Suite is an integrated hardware-software combined system that fixes firmware issues for drives of all major manufacturers and popular drive families.

By using HD Doctors and our software suite, you can have 50 percent more capability in data recovery, thus have 50 percent more business, which makes you "a professional".
Get More: HD Doctor Suite
2. PC 3000 Drive Restoration System (ACE Laboratory, Russia)
A drive restoration powerhouse developed by the data recovery experts at ACE Laboratory Russia, PC-3000 drive restoration system is the only system that fixes firmware issues for all hard disk drive manufacturers and virtually all drive families.
With PC-3000 drive restoration system, you can bring more drives back to life before you begin imaging and data retrieval.
Get More: PC 3000 System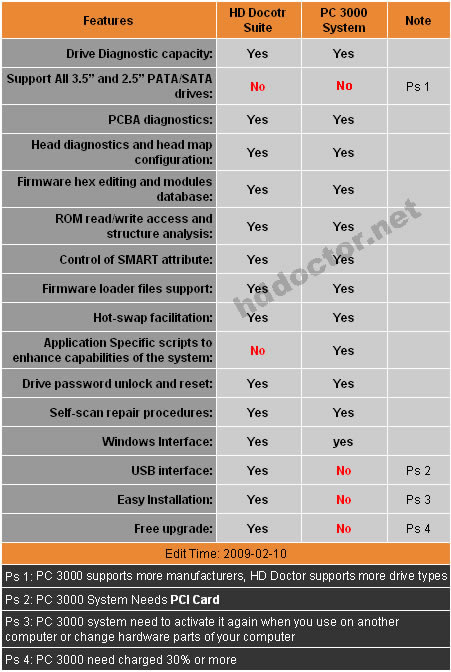 Note: Whatever you are a PC 3000 System fans or a HD Doctor Suite user, If you are doing a job related to hdd repair or data recovery ,you should know both of them. They all provide great tools for  hdd repair. When you are using either of them. You should compare it with the other one.
This page will help you make a better choice! If you have a different opition. Feel Free to tell me by your comment! Let' s make it better useful!