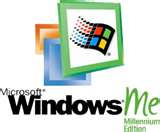 Is there support for a "rollback" feature that guarantees a working system in case of Windows Me failure?
There is a feature in Windows Me called "System Restore" – this feature allows Windows Me to revert to an earlier "known working" configuration of the Windows Me installation if the current configuration becomes corrupted and makes Windows Me unbootable or unusable. For further information on this feature and how it is used, please contact Microsoft.
Will Windows Me still run my older 16-bit applications and DOS applications?
Microsoft has stated that Windows Me will have complete compatibility for older 16-bit applications that run in DOS, Windows 3.xx, and Windows 95/98.
Will this be the last Windows operating system based on DOS?
Microsoft has stated that Windows Me will indeed be the last operating system based on the 16-bit DOS code base.
How do I make a bootable floppy or bootable hard drive with Windows Millennium (WinMe)?
Right clicking on a drive (floppy or hard drive) in My Computer or Windows Explorer only allows for formatting, WinMe no longer offers an option to copy system files and make the drive bootable. Use the following procedures for making a drive bootable.
Floppy: Making a WinMe Startup Disk is the only way to make a bootable floppy with WinMe. The WinMe Startup Disk is made the same way as in Win95/98 (My Computer-Control Panel-Add/Remove Programs-Startup Disk Tab-Create Disk).
Hard Drive: Using the SETUP command contained on the Distribution CD is the only way to make a bootable hard drive with WinMe. Although the WinMe Startup Disk still includes the FORMAT and SYS commands, you will receive the following notices when trying to use FORMAT C: /S or SYS C: "Microsoft Windows no longer supports the FORMAT /s command" or "Cannot find the system files in the standard locations on drive c:. SYS can only be used on drive c: to attempt repair of an already existing installation of Windows. Use Windows SETUP (Distribution CD) to make drive c: bootable".
Will my Windows 95/98 programs run under Windows Me?
Because Windows Me shares so many common features and inherent programming structure with Windows 95/98, most, if not all, programs and applications from the previous versions of Windows 95/98 will work under Windows Me. However, contacting your software vendors and/or Microsoft for software application compatibility before purchasing Windows Me is a good idea.
Will Windows Me be available to purchase in retail stores, or will it be available only pre-installed on new PCs?
Windows Me should become available in retail stores sometime during the late Spring or early Summer months of 2000. It is believed that during this same time, many retail PC manufacturers will begin offering Windows Me pre-installed on many computer systems.