Survey data from companies that specialize in data recovery may be used to investigate the primary causes for how data actually gets lost.
Hard drive failure is the most common cause of data loss, accounting for 38 percent of data loss incidents.
Drive read instability includes occasions where media corruption or degradation prevents access to the data on a disk. This explains 30% of lost data.
Software corruption, which might include damages caused by system software or other program (e.g., a virus attack), accounts for 13 percent of data loss incidents.
User error accounts for 12 percent of data loss episodes. This includes the accidental deletion of data as well as incorrectly partitioning the hard drive.
The relative magnitudes of the different types of data loss are illustrated as bellow. (This analysis ignores data loss due to theft, an increasing problem given the growth in use of laptops).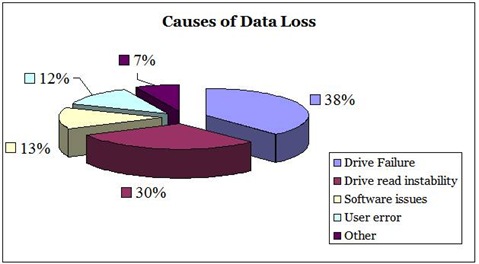 Causes of Data Loss: (Source: A survey of 50 data recovery firms across 14 countries.)