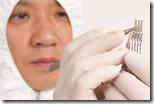 With data recovery training, You will learn the fundamentals of hardware data recovery which will enable you to properly diagnose dead drives and bring them back to life. You will also learn logical recovery for Windows, Mac OS X, Linux, RAID arrays, Exchange server and even solid state flash NAND drives!
This class does not rely on you purchasing an expensive tool (such as the PC-3000) to perform data recovery.
Total Hands-On Lab Environment in Data Recovery Training:
This Data Recovery Training neatly meshes the skills required in order to recover lost data. Some of the attention-grabbing lectures and hands-on lab exercises you will do during the class:
Logical Recovery of disabled hard drives
Using file format recognition tools
Logical recovery via avoiding BIOS interrupts
Motions that unlock the actuator of a drive
Diagnosing the physical recovery of drives
Comparing pre-recorded sound samples to live drives
Logic board replacements
Single and Multi-Platter Swaps
Head Assembly replacement
P-List and G-List recovery
Addressing SMART values
Dealing with damaged sectors
Reverse scanning
Capturing SID protected folders
Resolving kernel or driver issues with a Linux bootable disk
Head Stack replacement
Working with the Service Area (SA) of a drive
Reviewing data structures with a Hex Editor
Diagnosing "clicking noises"
Mac OS X Data Recovery
Linux Data Recovery
RAID 0 Recovery & RAID 5 Recovery
Vista and Recovery of Shadow Copies
Clearing passwords on a password protected drive
Solid state drive recovery
Firmware issues
With Data Recovery training, you will gain the skills to propel yourself to being one of the top data recovery engineers on the market today.
Comprehensive Course Package Includes::
5 Days of Data Recovery Training Instruction
Guaranteed small class size, you get an intimate learning setting not offered at any of computer forensics competitors.
Hands-on instruction from 8:30am to 6pm every day.
All meals, snacks and refreshments included.
3-5 hard drives for use in class
Lecture, Lab Exercise and Text book.
Data Recovery Toolkit, includes all software used in class.
Certified Data Recovery Professional (CDRP) Exam Voucher
Required Prerequisites:
Firm understanding of the Windows Operating System
Firm understanding of computer hardware
Attendees can be anyone involved in the recovery of information assets: information security officers and managers, network administrators, Windows administrators.
Training Price:
5 Day Course
Total Before Discount: $4,545.00
Discount: $720.00
Your Total: $3825.00