Seagate data recovery service helps you retrieve lost files or put data where it serves you best. With "no files, no charge" policy, and industry leading technology make us the best and safest choice for recovering or migrating your critical data. Seagate also optimizes your data for use in the E-Discovery process, saving you time and money.
Seagate Data Recovery Service: Hard Drive Data Recovery, RAID Data Recovery, Database Recovery, Server Data Recovery, Tape Data Recovery, Data Migration Services, Digital Photo Recovery, Data Recovery For Windows, Unix And Linux Data Recovery, Data Restoration…
1. Automatic Quote of Seagate Data Recovery Service:
Simply answer some questions (Seagate Data Recovery Solution Wizard) and they will immediately provide you with a range of options to get your data back. They will also tell you exactly how much recovery costs so that you can determine if the value of the data justifies the cost quoted for the recovery effort before submitting the pre-approved case to begin the recovery process:
Note: An automatic quote only for a single media with Windows or MAC operating system.
What type of storage device do you have?
What type of operating system do you have?
Can your computer still view the storage device?
Has the device been physically damaged, or is it making any abnormal noise?
Cost of Seagate Data Recovery Service: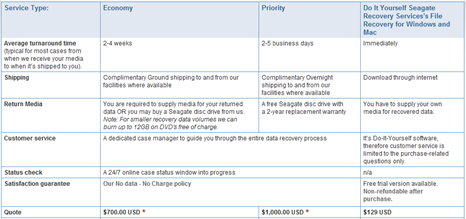 2. Accurate quote of Seagate Data Recovery Service:
If your data loss situation is more complex and will require a data recovery expert's evaluation before they can provide you with an accurate quote.
USA, Canada:
1-800-475-0143
Europe:
+44 (0)800 7832826     +33 (0)805 540631
+49 (0)800 5892917     +49 (0)89 28890 447
+32 (0)2 5357 586        +31 (0)20 6556 485
Fax: +31 (0)20 6556 499
Australia
Fax: 0011-800-6333-3282
Remember: Seagate Recovery Services has a strict No Data – No Charge policy. There is no recovery fee if your media's data cannot be recovered.
My media is still under warranty?
Seagate Recovery Services recognizes all competitive hard drive manufacturers' warranties! If during the recovery process,they void the warranty, they will replace the failed product with a comparable Seagate drive free of charge. In addition, if you choose their priority service, you will get a free Seagate disc drive covered by a 2-year warranty.