Recovery damaged, corrupted and deleted data from HFS, HFS+, FAT, NTFS & other file systems.
Version: Disk Drill 1.0.66
Publisher: www.cleverfiles.com
Operating system: Mac OS X 10.5+
Disk Drill is a free data recovery program designed and created exclusively for Mac OS. Extremely clear wizard-like user interface guides you through the data recovery process and offers several options for successful MAC data recovery. Was your hard drive formatted? Is your external volume not accessible any more? CleverFiles will help you recover what is still available on a binary level.
* Note: It is free while beta!
Disk Drill Main Features:
File systems supported: HFS/HFS+, FAT, NTFS, etc.
Media supported: Memory cards, external and internal hard drives, iPod and iPhone, camera and so on.
Recovery in Seconds: You can use Quick Scan or Recover from Vault modes to quickly analyze existing file system catalog and recover deleted files unexpectedly fast.
Partition Recovery: Accidental repartitioning lead to data loss? Recover data from partitioned or formatted disk drives right on your Mac.
Disk Drill Main Screenshot: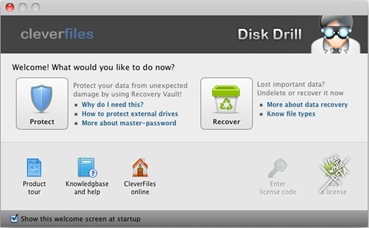 Disk Drill Free Mac Data Recovery Program Customer Reviews:
Disk Drill is the only true Mac-style software for data recovery and data protection. And it's exactly what I was looking for"
Bravo! I just did the high level scan. Unbelievable! You are the only one capable of recovering from a CF 16GB. Every program I tried so far failed miserably. My hat to you."
Disk Drill Free Download:
Free MAC Data Reovery Program: Disk Drill