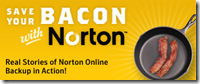 Norton Online Backup automatically protect and remotely store your files at their secured data centers. Norton Online Backup also provides you convenience by giving you more ways to securely access and share your files anytime you have an internet connection.
Norton Online Backup Overview:
Storage: 25GB
Operating System: Windows 7 / XP/ XP Pro / Vista /Mac OS X v10.5+
Delivery: Download
Price: $49.99/Year (Protect up to 5 PCs)
Coupon Code: 15NORTONSTORE (Get 15% off)
Norton Online Backup Main Features:
Delivers easy-to-use, professional-grade, backup protection for your files
Lets you access your files from any Internet-connected computer
Makes transferring files between computers a breeze
Works with both Windows and Mac computers
Simplifies file sharing
Lets you search backup sets for specific files by keyword
Saves older versions of your backed up files
How does Norton Online Backup works:
Download and install Norton Online Backup client to get started protecting documents, music, videos and digital photos with automated online backup that's easy to use.
Norton Online Backup Reviews:
CNet.com: Norton Online Backup 2.0 hits the Web
Hardware Geeks: Norton Online Backup 2.0 Available with PC and Mac Support
Useful Links:
Purchase Norton Online Backup Now
Low price on Amazon.com: $19.99 (Save $30.00. This is the cheapest price. Norton Online Backup 2.0 1User/25GB )