Choose the Apple from the menu.
Choose About this Mac.
Choose More Info…
Choose the drive type: Serial ATA
Highlight the appropriate drive listed under the bus.
Below you will see the model and serial number of the highlighted drive.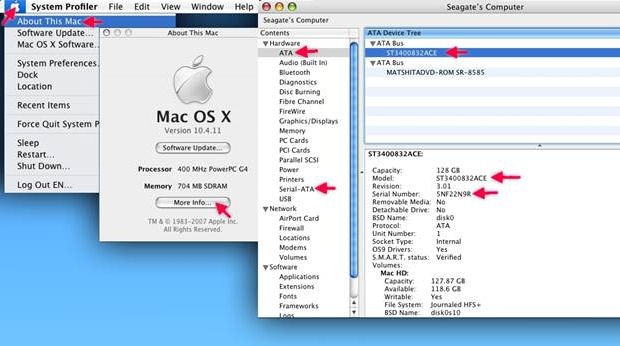 Frequently asked questions:
Can I update the firmware on my hard drive if it is installed in a Mac?
Yes. However, it must be an Intel-based Mac (i.e. MacPro and iMac – with Intel inside). There are other models of Macs that have Intel processors such as the MacBook and MacBook Pro notebooks as well as the Mac Mini, but these drives have notebook (2.5-inch) drives which are not affected.
I have a PowerMac.  Can I update the firmware on