Samsung SpinPoint SATA drives Jumper Setting: change transfer rate from 3 Gbps to 1.5 Gbps
Some computer motherboards with Serial ATA connections do not support SATA 3.0 Gbps performance. A jumper can be applied to Samsung SpinPoint Serial ATA drives that support 3.0 Gbps performance to slow the drive down to 1.5 Gbps so that these motherboards can support the drive.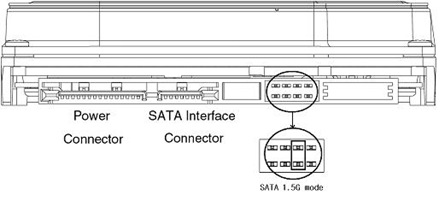 Note: This jumper should be used only when the motherboard can not compensate for the drive's faster performance.